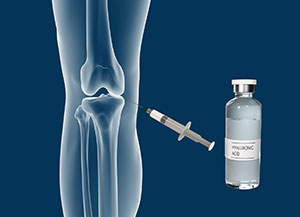 What is Combined Hyaluronic Therapy for the Knee?
Combined hyaluronic therapy is the process of injecting hyaluronic acid (HA) along with platelet-rich plasma (PRP) into your knee to treat osteoarthritis.
Osteoarthritis is a medical condition caused by degeneration of cartilage, the protective and natural cushioning tissue in your knee joint.
Hyaluronic acid is a naturally occurring slippery substance in your knee that lubricates the joint and is an important component of cartilage matrix. People with osteoarthritis have a decreased level of HA.
Platelet-rich plasma is the concentration of platelets (blood-clotting cells) prepared by centrifugation of your blood. PRP stimulates healing and encourages the growth of cartilage.
Indications for Combined Hyaluronic Therapy
Indications for combined hyaluronic therapy can be:
Swelling and stiffness in the knee joint
Tenderness and discomfort when pressing on the area
Decreased or restricted movement of the knee
Knee pain that is not severe enough for surgery
Concept of Combined Hyaluronic Therapy
Your joints contain a naturally produced hyaluronic acid. If you have osteoarthritis, the acid becomes thinner and its level decreases. When this happens, the bones in the knee joint start to rub against each other as there will not be enough hyaluronic acid to lubricate and protect the joint.
Therefore, a combination of platelet-rich plasma and hyaluronic acid that is chemically similar to natural joint fluid is injected into the joint. These shots put more HA into your joint and help with lubrication, while PRP will ensure better healing and growth of cartilage.
Pre-therapy Care
Before administering the therapy, your doctor is likely to tell you to stop using any oral anti-inflammatory medications for a short time.
How is Combined Hyaluronic Therapy Administered?
Your doctor will administer the medication in the office. During the procedure:
Hyaluronic acid is mixed with platelet-rich plasma.
The area around your knee joint is numbed.
A needle is placed into the affected space within the joint.
The ready medication is then directly injected into the joint.
The number of injections and the time gap between each injection will be decided by your doctor based on the need for the medication.
Risks or Side Effects of Combined Hyaluronic Therapy
Typical risks or side effects of combined hyaluronic therapy include:
Slight swelling and/or bruising in the knee
Warmth, pain or stiffness in the knee
Possibility of infection, though rare
Benefits of Combined Hyaluronic Therapy
Combined hyaluronic therapy can help to:
Reduce symptoms of osteoarthritis
Improve stiffness and pain in the joint
Develop new blood vessels around the joint
Restore the articular (joint) and physical function